We used egg carton flowers for a hands on math activity. The flowers made out of egg carton are very  pretty. We had used them for a math activity but those flowers can be pasted on a canvas to create a bouquet also!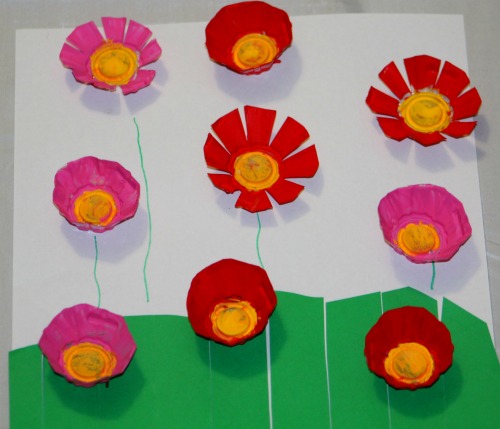 Egg carton flowers!
Affiliation links are used in the post.
Materials needed for this hands on math activity:
Egg carton – We used the transparent one
Acrylic paint
Printer paper
Color Paper
Scissors
School glue
Preparation for this hands on addition activity:
Cut out the individual cups from egg carton. I made slits at few places in few cups to make them look like bloomed flowers. I left few others as such.
Paint them with acrylic paint. We chose red and pink to paint our flowers. Painted the middle portion yellow.
Apply second coat of paint when the first coat is completely dry.
Let the flowers dry completely.
Cut green color paper  like grass and paste it in a copier paper with school glue.
 Write the addition problems at random places in the copier paper with a marker.
Write the answers of the problems at the back of the flowers with permanent marker.
How to play this math activity:
Invite the child to play. The child has to solve the addition problem and pick the flower with that answer and paste it on the problem with school glue. 
The process has to be repeated for all the math problems. At the end, the child has not only practiced the math problems, but also a beautiful art work is created!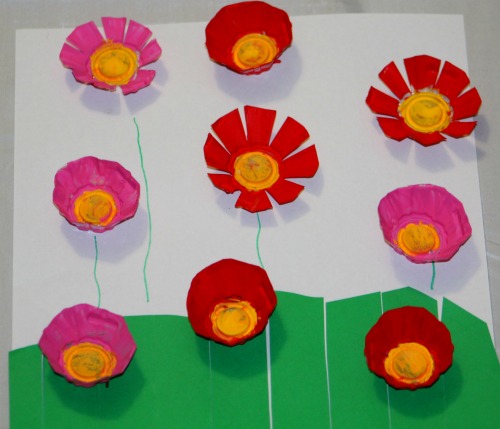 Isn't beautiful? Beware! The child may ask to repeat the activity. Have few more flowers at hand to repeat.
You may be interested in our other hands on activities. Click the pictures below to read about them.
Please feel free to pin the following image: