It is always fun to decorate Easter eggs. I had shared about Easter egg decorating ideas like nail polish decorated Easter egg and aluminium foil decorated Easter egg. Today I am sharing about a yarn wrapped Easter egg decorating idea.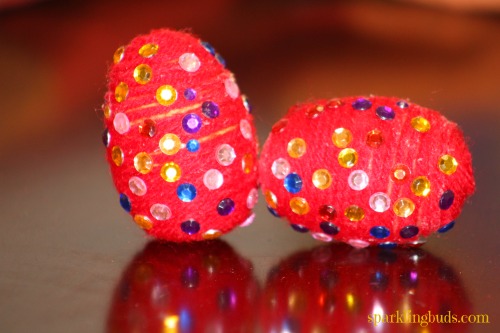 Easter egg decorating ideas!
Affiliation links are used in the post.
Materials used for decorating Easter eggs:
Plastic Easter eggs
Yarn
Tacky Glue
Gems (Optional)
Method:
Apply tacky glue on the Egg. Starting from an end, wrap the yarn around the egg.  Do not cut the yarn from the bundle.
We did not apply glue on the entire egg. We were applying to a small portion at a time and wrapping the yarn. It was easy to manage. When the entire egg is wrapped, cut the yarn from the bundle.

We made couple of them. They are beautiful! You can leave them as such if you want.
We added gem stones with glue. You can also use sequins or glitter to decorate the yarn egg.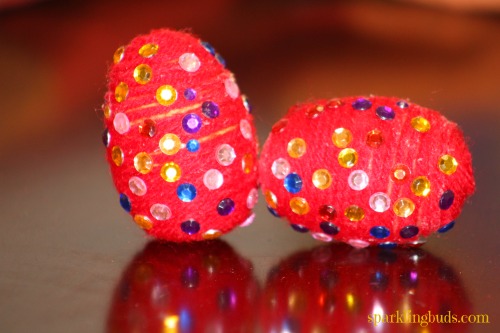 Have you tried decorating the plastic eggs before?
You may be interested in our other Easter activities. Click on the pictures below to read about them.
Please feel free to pin the following image: