Memory game activity for preschoolers is easy to set up. It can be customized according to the child's ability. We used the plastic Easter eggs to make  sight words  memory game. My preschooler shows a lot of interest to read and also loves hands on sight words activities .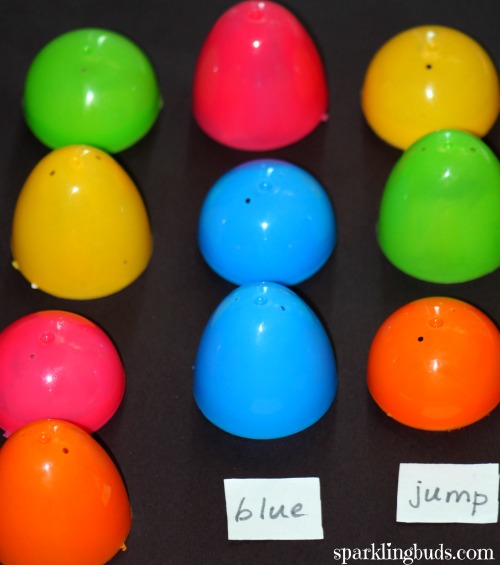 Memory game activity for preschoolers!
Materials needed to set up this memory game activity:
Plastic eggs
Paper
Marker
Sight words list
Method:
Cut the printer paper into thin strips small enough to be covered by half egg.
Write the sight word on a strip with marker. The same word has to be written twice to play the memory game.  I had written eight words – that is sixteen strips in total.

Arrange the sight word strips in a such a way that the same words are not next to each other. I made 4 * 4 table.
Cover the words with half eggs.
Invite the child to play memory game.
The child has to lift two eggs to read the words. If the words are matching, the child keeps the word strips. If the words are not matching, they have to be kept back and covered with the eggs again. 
My preschooler enjoyed playing this memory game. As I mentioned, we had used this idea for sight words matching. It can be used for alphabet matching or number matching or even for addition/subtraction.
How did you teach sight words to your kids?
Other hands on sight words activities that may interest you. Click the pictures below to read about them.
Please feel free to pin the following image: