Today's post is about an Easter math activity for preschoolers. Though we have used this idea for addition, it can be customized for many other learning activities. The colorful plastic eggs and the beautiful buttons make this activity interesting and attractive.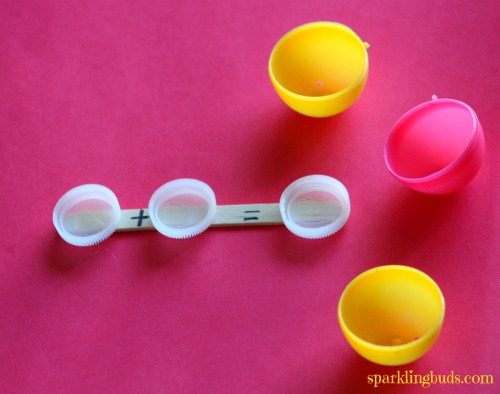 Easter math activity for preschoolers!
Materials needed for this hands on math activity:
Plastic Easter eggs
Craft stick/Popsicle stick
Marker
Printer paper
Hot glue
Water bottle lids
Buttons or beans for counting
Preparation for this hands on addition activity:
Water bottle lids are used to hold the Easter eggs in place. Glue three lids on a craft stick with hot glue.
Write the mathematical operation and the equal to sign in between the caps with the marker.
Write the math problems the kid has to practice in a sheet of printer paper.
Method:
My preschooler was able to pick it up once I taught her the first problem. She had to
 Place half eggs on each cap
Drop buttons on the left two eggs according to the problem in the sheet
Take both the eggs and drop the buttons onto the third (after the equal sign)
Count the buttons and write the answer
This activity is good for visual learners. My daughter was playing again and again. It gave her a  nice introduction to addition.
Other game ideas that might interest you. Click the pictures below to read about them.
Please feel free to pin the following image: