There are so many ways to use Easter eggs with preschoolers. They can be used for learning activities like name recognition activity or fine motor activities like rubber band activity.  These simple Easter ideas for preschoolers were thoroughly enjoyed by my preschooler.  This time we decorated our Easter egg by pouring glue over it.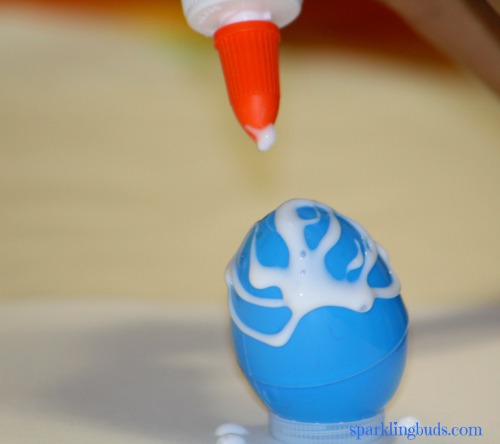 Easter ideas for preschoolers!
Materials needed for this Easter decoration idea:
Plastic Easter egg
Something to make the egg "stand". We used water bottle lid
School glue
Glitter in various colors
Method:
Gather your materials and cover the work space. This idea is messy.
Keep the egg on the water bottle lid to make it stand.
Invite the preschooler to decorate the egg by pouring the glue over it.
Initially my preschooler found it challenging to pour the egg exactly over the egg. Also, instead of pouring she was "drawing" around the egg. 
Then she got hang of it. oh! This simple activity is good for hand eye co-ordination too.
 My daughter did not want the glue to reach the very bottom. Also, she was tempted to use the glitter. So, here comes the part of decorating the egg with glitter.
She poured the glitter over the wet glue.
We used the lid to turn the egg while pouring the glitter. 
I always prefer activities that are very simple to set up but challenging enough for  my preschooler to enjoy. This activity definitely falls under both categories.
Once the glue dried completely, it became transparent and it was like glitter decorated egg. Glitter will eventually peel as it is plastic egg.
Did you decorate Easter eggs with your preschoolers?
You may be interested in our other Easter activities. Click the pictures below to read about them.
Pin for later: