Paint made with sugar is glossy and super fun to use. My daughters love to paint. Homemade paint gives them different painting experience. Our Easter art projects like Marble painting or Monoprint Easter eggs are simple for toddlers and preschoolers but fun for big kids too. Today post is about making and using sugar solution paint to color Easter eggs.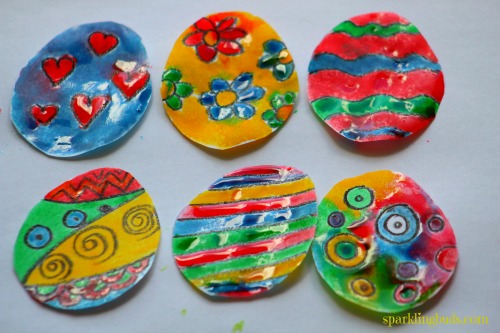 Easter art projects!
Materials required :
Printer paper
Sugar
Q-tips
Black crayon
Food coloring
Preparation:
Make paint out of Sugar :
1. Mix equal amount of sugar and water. We used just 4 teaspoons of sugar with 4 teaspoons  of water.
2. Keep the water and sugar mixture in the stove in medium heat till the sugar completely dissolves. It would roughly take 2 to 3 minutes. Let the solution cool.
3. Split the solution and add food coloring. We used water bottle caps as the containers and added 2 to 3 drops of food coloring to each container. Mix the food coloring and the paint well with q-tips. The paint is ready.
Method to use this homemade paint:
Draw with black crayon on the printer paper. Since we were working on Easter projects, I cut out oval shapes from the printer paper. My ten year old drew designs in them with black crayon.
Apply sugar paint with Q-tips.
The paint was little watery but the black crayon did not allow it to flow. We painted both inside and outside the design.
Let the paintings dry completely. Ours took nearly 4 hours to dry. 
Aren't they shiny and beautiful? The eggs can be made in batches and used to make banners.
You may be interested in our other Easter ideas. Please click on the pictures below to read about them.
Please feel free to pin the following image: