Dots are used to make the image in pointillism technique. We used pointillism  to create  positive and negative clovers. This activity is a great way to introduce pointillism to preschoolers or bigger kids.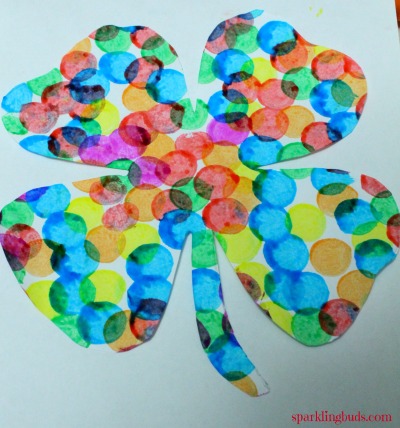 Pointillism technique!
This post has affiliation links.
Materials required:
Do A Dot Art markers
Printer paper
Shamrock template.
Tape
Method:
Print a shamrock template.  I could not locate the site from where I took my template. A similar template is available here.
Cut out the shamrock.
Attach tape to the shamrock cutout.
Attach the cutout to another printer paper. The tape will restrict the movement of the cutout. But it will not completely paste the cutout to the paper.
Let the kid paint the entire paper with Do A Dot Art markers. 
Once the painting is done, slowly remove the shamrock template from the paper. Discard the pieces of tape. Enjoy the beautifully painted shamrock!
The paper has the negative clover.Positive and negative paintings of clover are done using pointillism technique. Aren't they simple and beautiful? What do you think about them?
Other simple painting ideas that might interest you:
Please feel free to pin the following image: