We played the classic I spy game in the ice cubes. Kids love to play I spy game. Kids love to play with ice cubes. So I need not tell that this activity became an instant hit in our house. It is very simple to set up with everyday items available at home.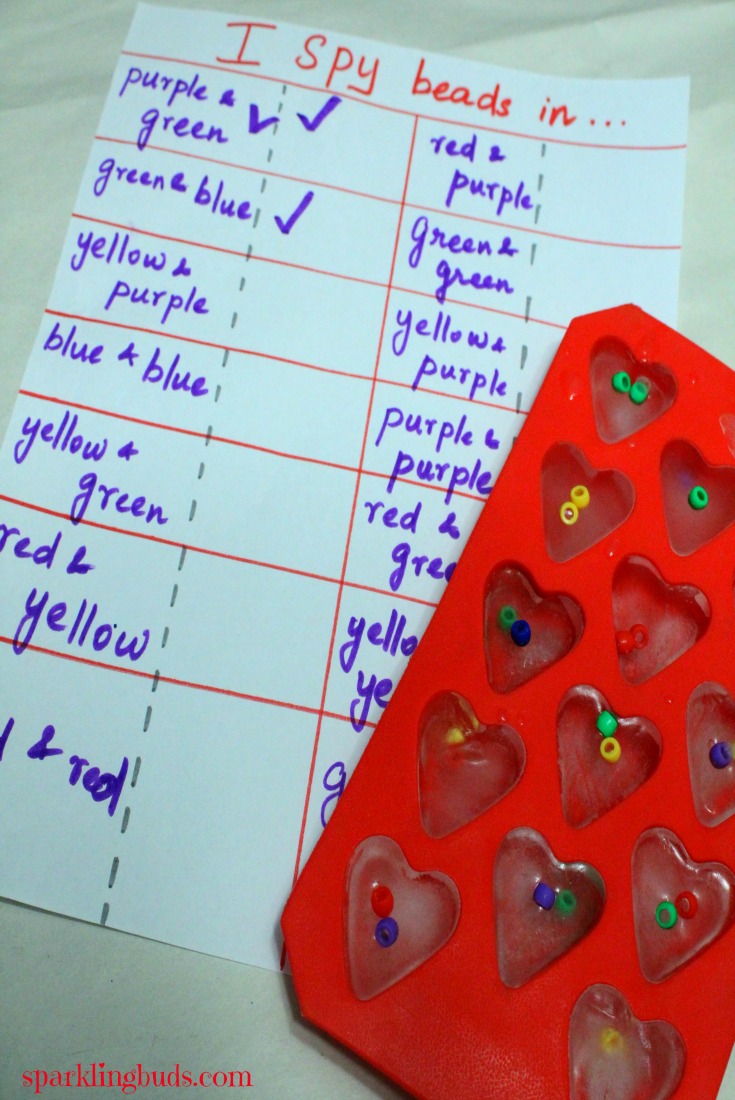 I Spy game
Materials needed to set up this simple I spy game
Beads or any small objects
Ice cube tray
Paper
Marker
Method
As I mentioned, this activity is very easy to set up.  My ice tray can make 14 ice cubes. So I made 7 *2 table in the paper . I drew lines with marker – solid lines to separate the tabs and dotted lines for my preschooler to put a mark.
 I filled the ice tray with water and put 2 beads in each space. As soon as I dropped the beads in the water, I wrote the colors in the paper at random spaces.
I kept the ice tray in the freezer.
Then the fun part begins. I gave the paper, marker and ice tray with beads to my preschooler. We did not remove the ice cubes from the tray. She used it with the tray.
She read the colors in the paper and "spied" the same colored beads in the tray. After she found out, she put a tick against the column. 
She loved it so much that we had to repeat. I prepared a paper similar to this and made her repeat. This game is the classic I spy game with a slight twist.
You may be interested in our simple to set up games. Please click the below pictures to read about them.
Thanks for reading. Hope you enjoyed reading it. If you found this post useful, pin it or share it. It will keep me motivated. Thank you!